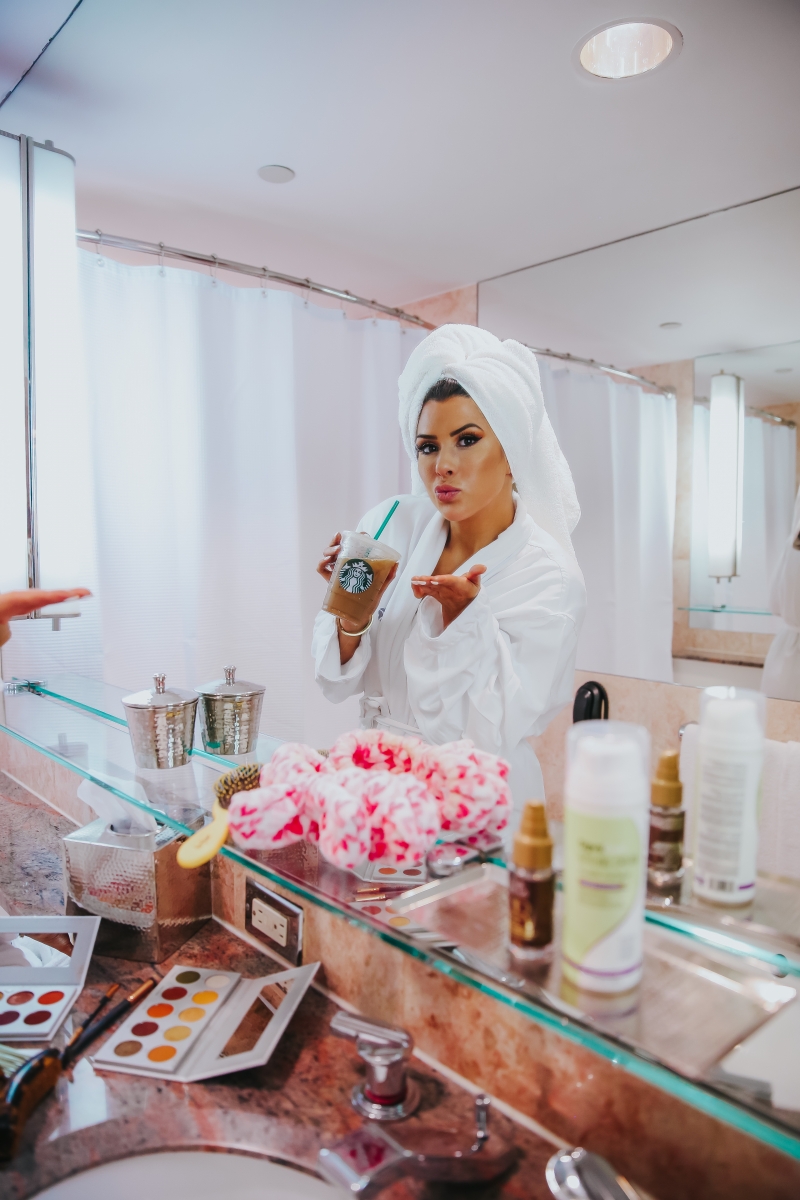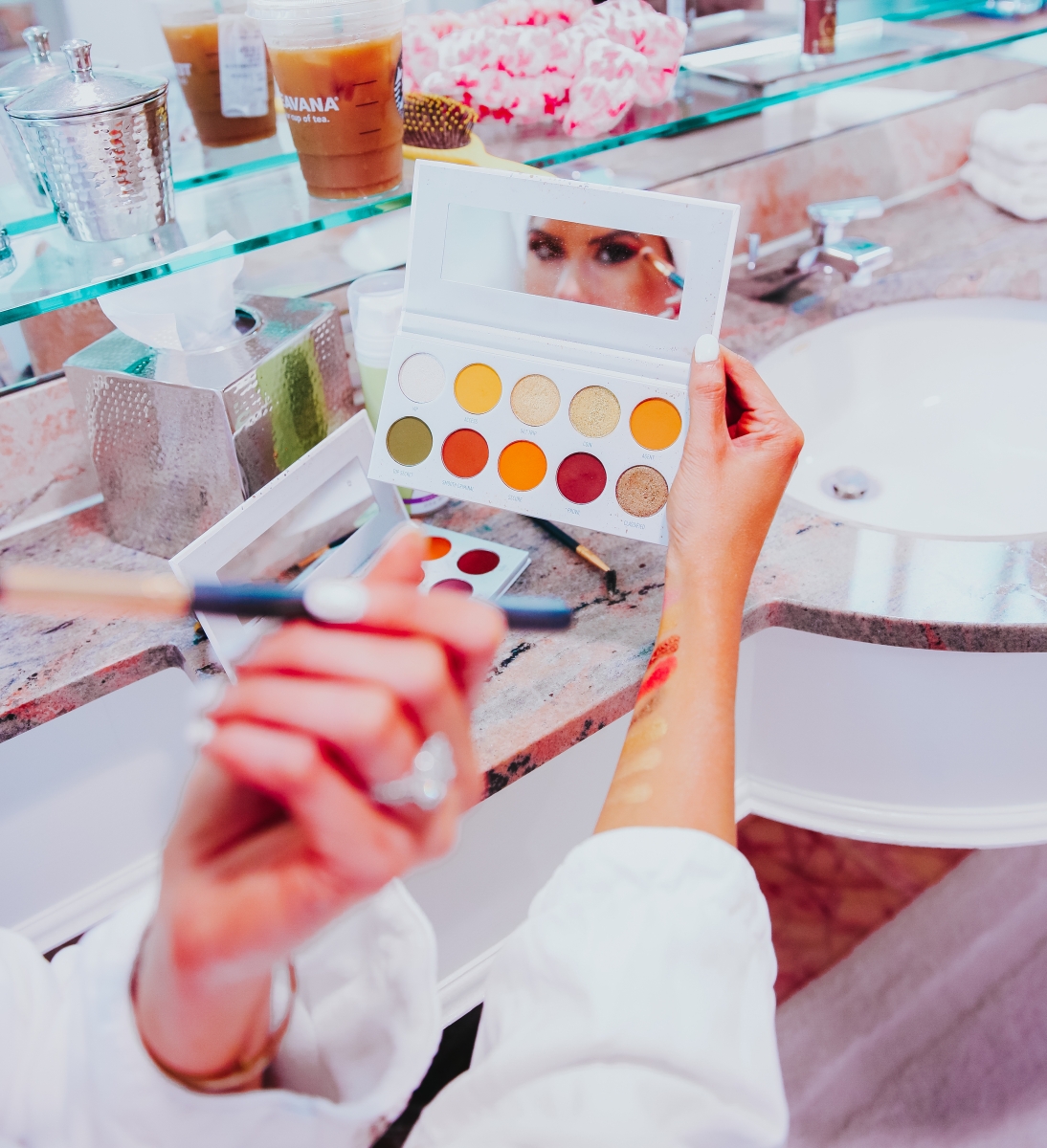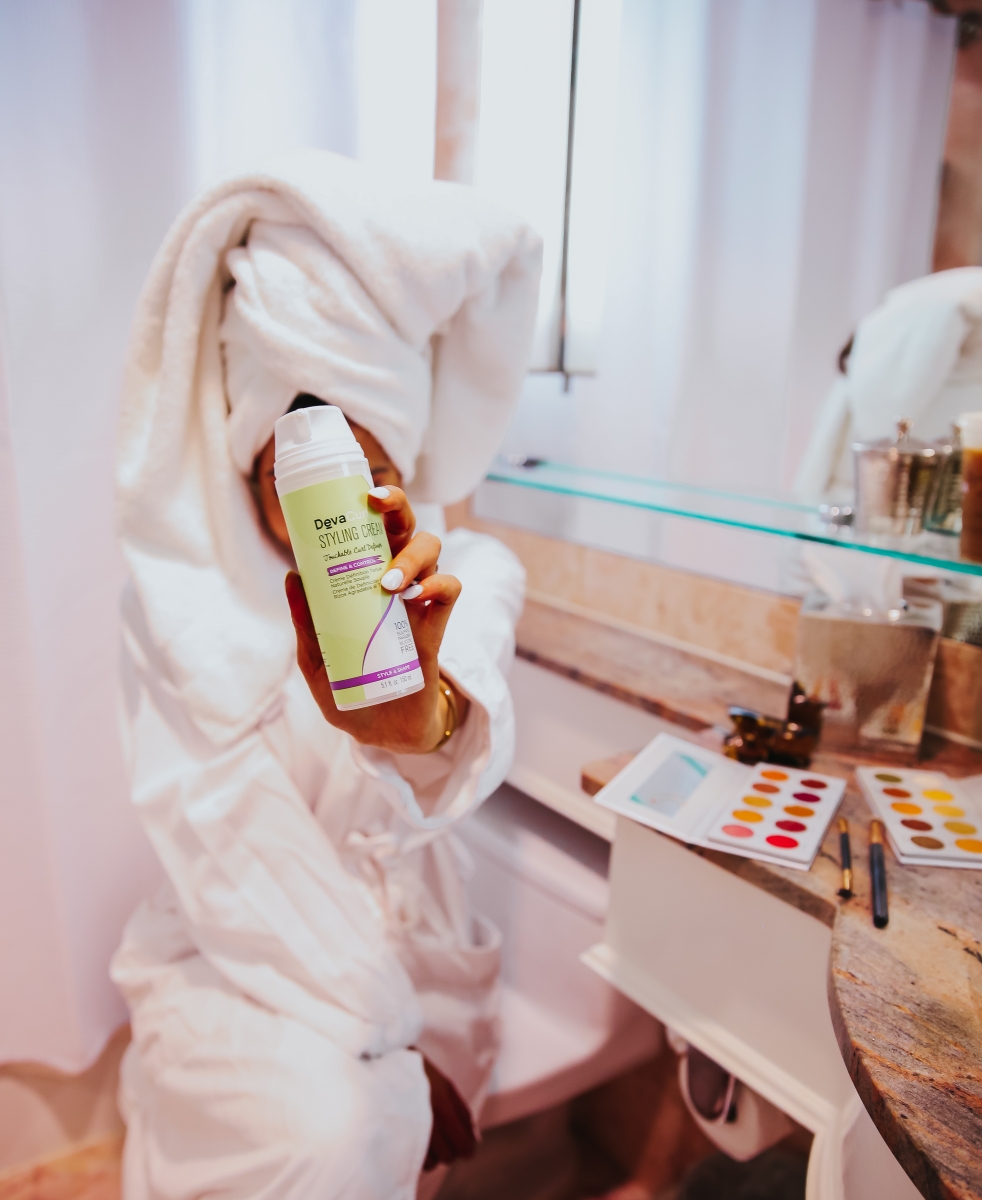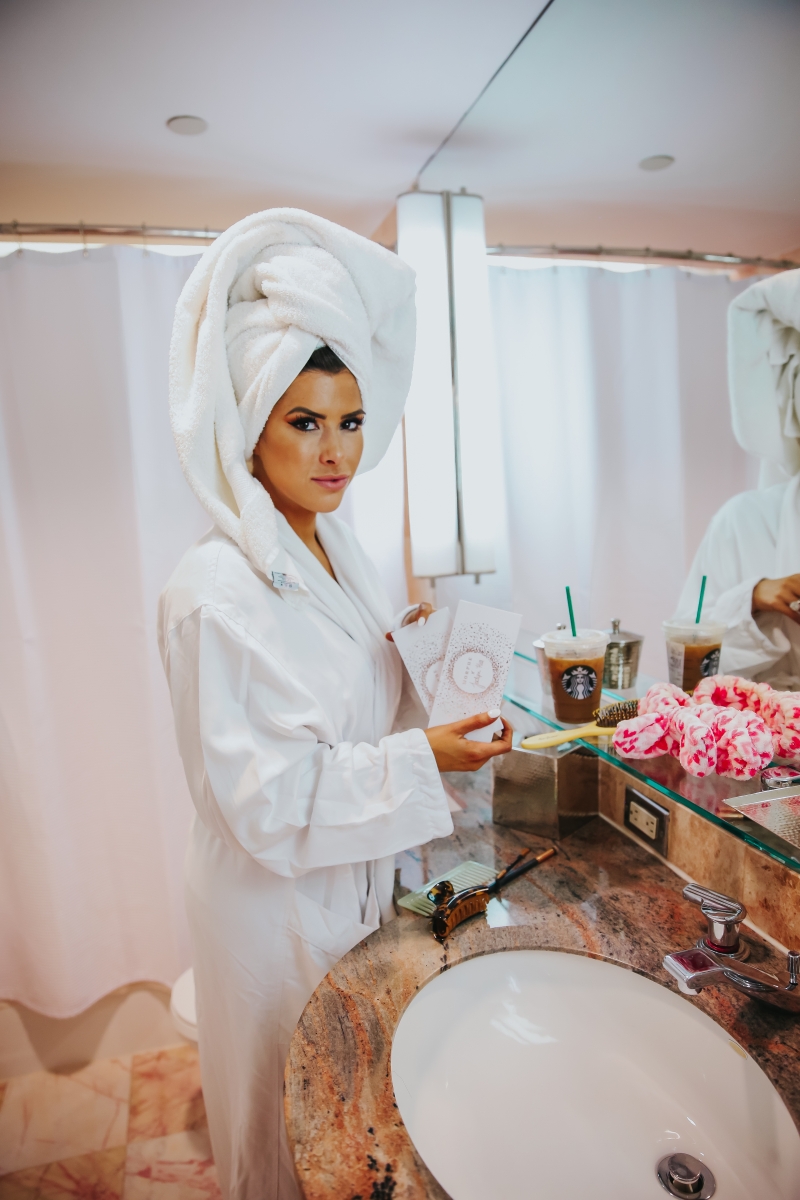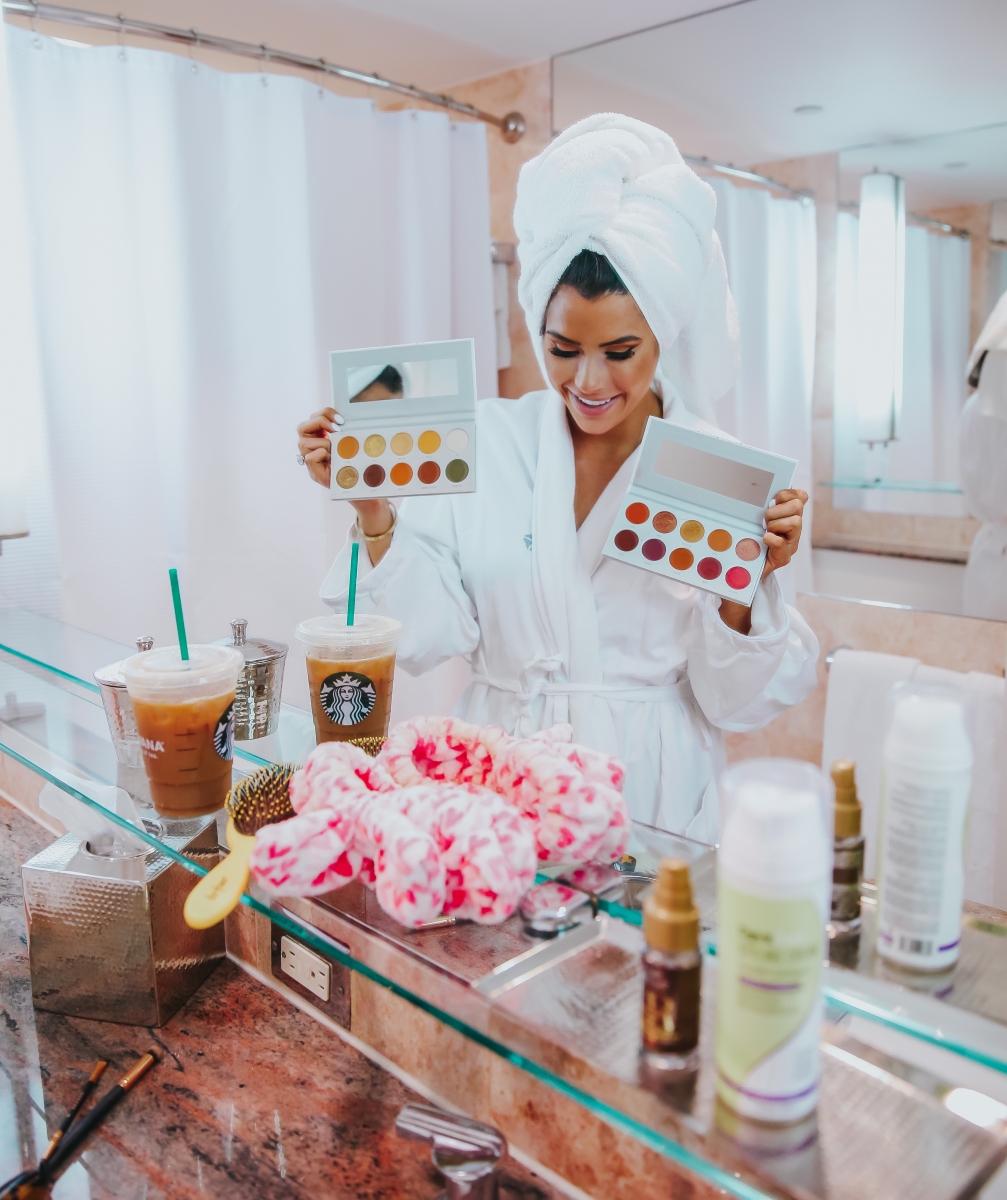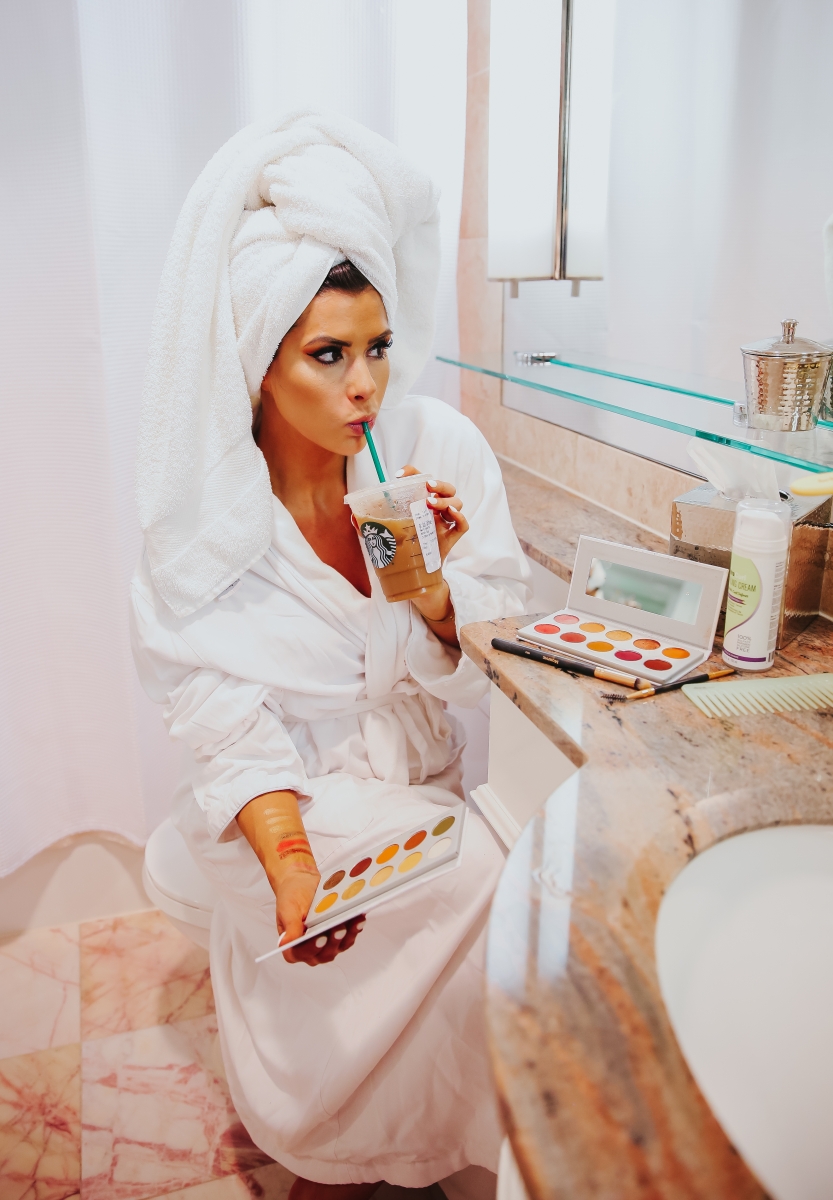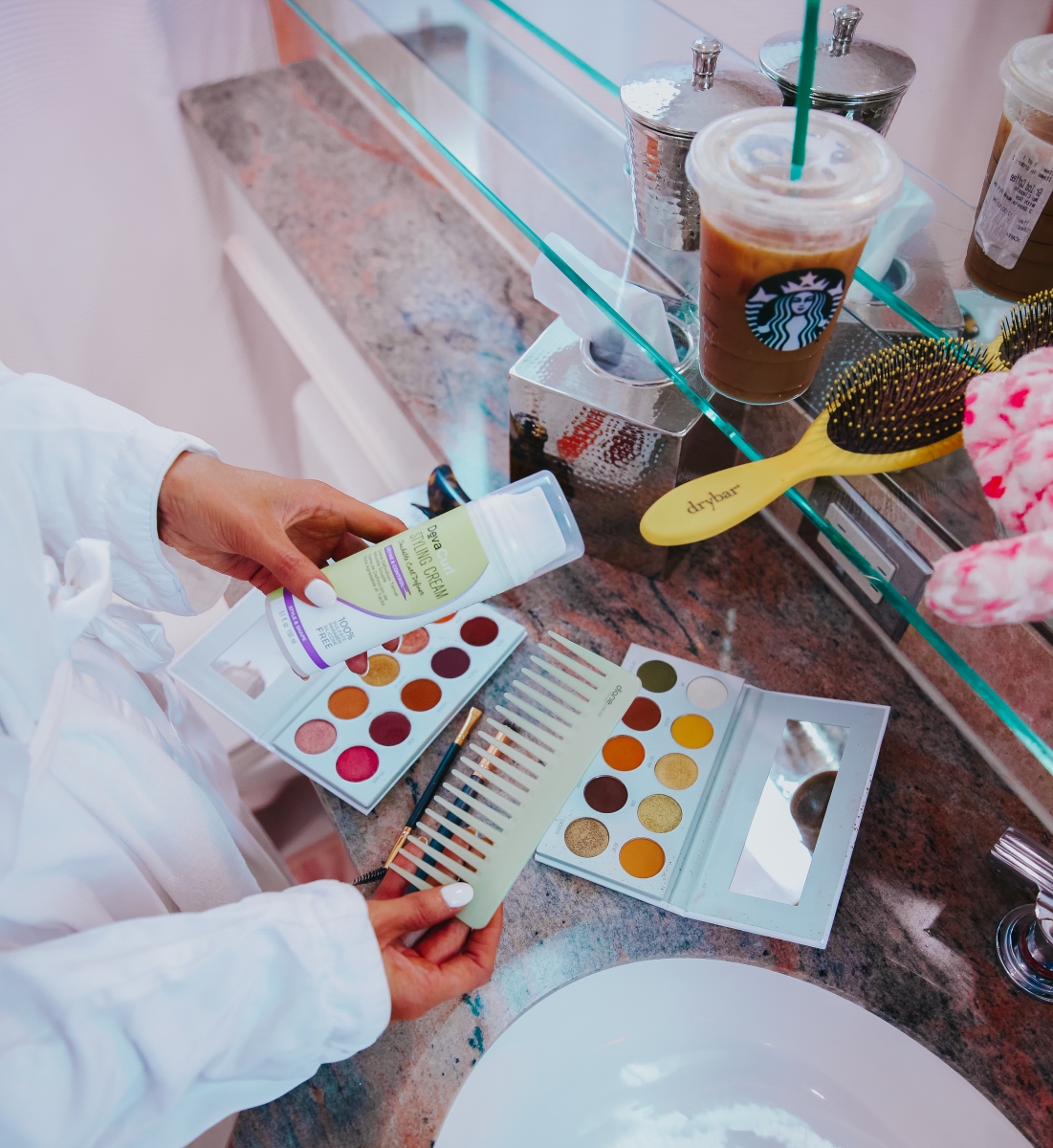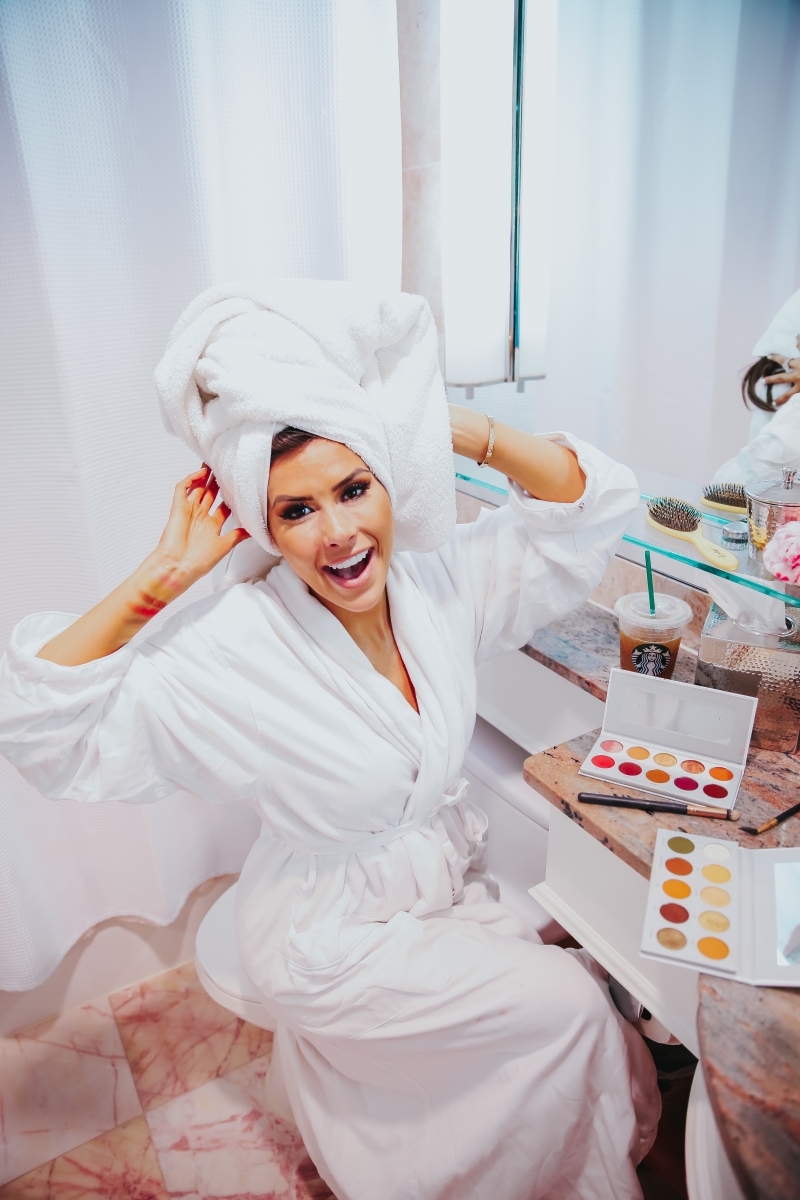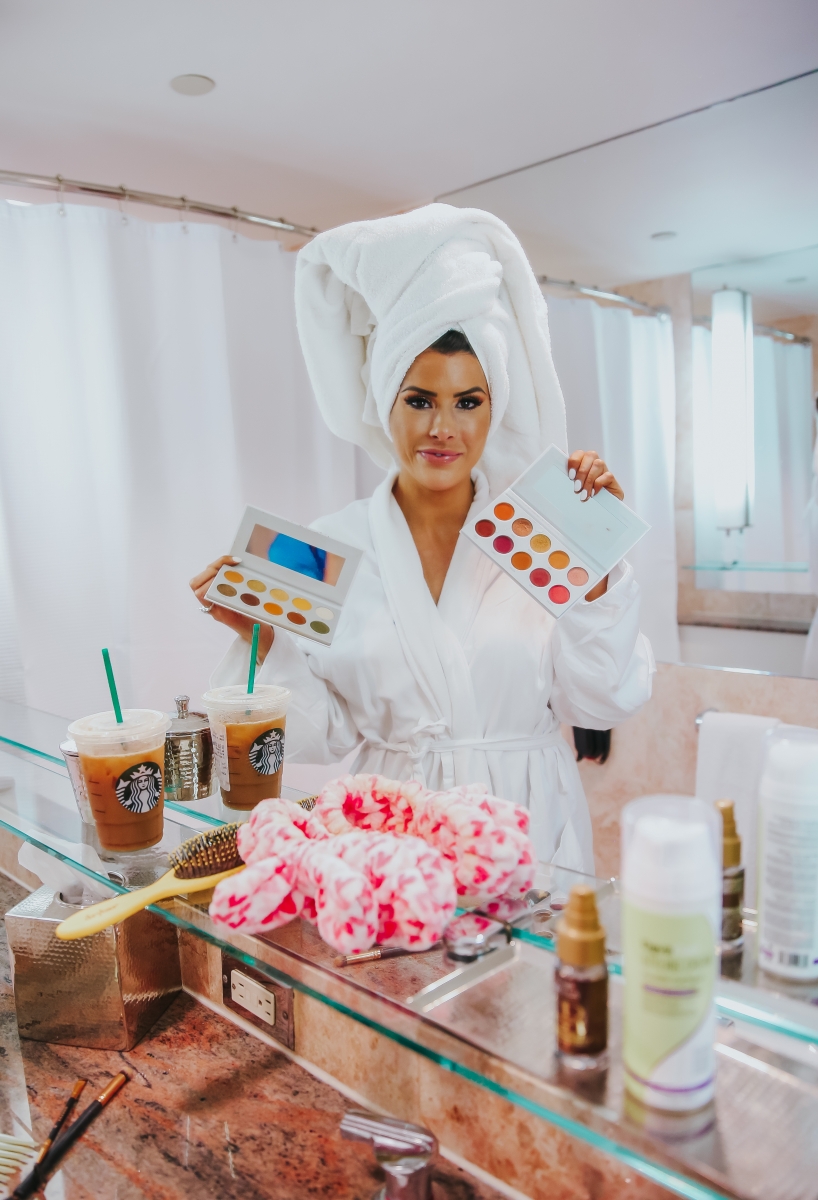 Good morning & happy Monday to everyone! [*if you are reading this on Monday morning, that is!*]. I typically pop in with a 'Beauty' post mid-week but after getting so off schedule last week I am a little behind on my beauty post so I thought I'd start the week off with a dedicated beauty post! If you are new here, I blog post beauty topics [hair, make-up, skincare, etc.] each week and I have been doing this for a while now. In fact, The Sweetest Thing got its started from my getting asked "what curling iron do you use?" and "what mascara do you wear?" so frequently. 🙂 Anyway, I am hoping to get back in to a routine this week- it actually feels really good to be on my regular routine!
Any who! As I mentioned in my last post, John and I flew to NYC on Thursday morning. We attended a beautiful wedding Friday night & the rest of the weekend we attempted to catch up on work & rest a little. It wasn't our typical 'super busy and exciting' New York City weekend since being in such a funk after losing my Grandmother Pat. However, I noticed something while we were there that was rather funny and that was that I really enjoyed sitting down to fix my hair and makeup. It was therapeutic in a way honestly! Now, I've always been your typical "girlie girl" [what my dad used to call me actually] so I do love getting ready and playing in hair & makeup products – but it was different this time really. When I woke up last Monday morning to the news that my Grandmother had suddenly passed, I didn't get ready-ready at all for two days- all I craved was being near my family and holding Luke. Of course I attempted to "put myself together" for the visitation and funeral but it was hurriedly and light since I knew there was really no point [read: tears]. On Thursday night after arriving in New York, I was missing Luke so much but I knew I needed to kind of get out of my funk and enjoy my alone time with John and get out of the room to see our friends in NYC. I got out all of my hair and make-up products and slowly got ready, taking my time all white listening to the Crazy Rich Asians audiobook. 🙂 It was honestly so relaxing & fun to do this. Playing with beauty products is not only by job, but it was actually always a favorite 'hobby' of mine prior to my blogging! In fact, I get comments from not only readers but also friends who will say things like "I saw your snap without makeup, why do you wear it if you don't need it?" and I realized that not everyone sees makeup as I do! It's funny – it is like running [i.e. exercise] or something – ya know?! So funny, I truly enjoy trying new products, learning about new techniques, and I really love sharing all of my favorites on here! That is probably the best part – discovering something that is really good and sharing it with you all!
I'm actually partnering with Ulta today to share a couple of things – 1) being recent favorite finds and 2) being the 'Meaning of Beauty'. When I was first asked the question "what is the meaning of beauty", a few things came to mind SO quickly. First of all, I am a personality person, big time. I can meet someone and think "oh what a cute girl!" when I first see her but then if I talk to her and really enjoy her, I end up thinking "oh she is so beautiful!". I do this with absolutely everyone – boys & girls, alike – and also young & old. I totally love cute clothes, and I appreciate good hair or great makeup and/or skin, but more than anything, if someone is kind, encouraging, smart, loving, sweet – it totally changes everything to me. I've always been like this and John will joke with me about it, too, as he can keep outer & inner appearances "separate", ya know? [I think it's a doctor thing because so many things I think are embarrassing or gross, John sees as interesting and scientific!] Anyway, again, I do think beauty has a variety of meanings but coming from someone who loves writing about beauty product and shopping at Ulta so often, I still find the most real "beauty"  coming from people who are kind/sweet/thoughtful/smart/hardworking/funny, etc.
SO, anyway! 🙂 What a long post coming from me?! Before I end it, I do have to share some beauty finds from my last couple of Ulta trips! I have had many questions about a few of these things so I will very quickly break it all down!
RECENT ULTA BEAUTY FINDS
#1 Morphe x Jaclyn Hill The Vault Collection || Jaclyn actually sent me the Vault before it was released and I am SO obsessed! I am not great with eyeshadow but ever since I started using the Vault palettes, I have had multiple people stop and ask "what eyeshadow are you wearing?!". There are 4 separate palettes and they each have a color scheme, ya know? Before I got her PR package in the mail, I was planning to order Armed & Gorgeous as it has my favorite warm-toned colors. Luckily, I got all of the palettes and I really love Ring The Alarm as much as I do Armed & Gorgeous! When I was packing for NYC I was trying to make room for everything I so I decided I could only bring 2 with me and these were the two that I brought. I did end up wishing I would have just brought them all because the other palettes have some key colors that I really enjoy if I am trying to switch things up a bit! If you love tans, oranges, caramels, deep reds, browns, & bronzy shimmer shades – these two palettes are for you! My goal the next month or so is to learn how to use the silvers, blacks, pinks, & purples though! As far as quality goes, I feel like my first couple of sentences can speak to that! The fact that people even noticed my eye shadow speaks volumes really! The colors blended so well and so easily! Shimmer/glitter shades are LIFE to me and they are insane!!!! You can spray a little Fix+ on them before you apply and BAM, it is gorgeous!  *Also, since we just talked about the meaning of beauty – I will tell you that Jaclyn is one of those people who get 10x prettier to me after I met her. She was so funny, silly, encouraging, and uplifting and it truly just enhanced all of her positive outward beauty!
#2 Headband / Hair Wrap || I have had this one in a few of my IG stories where I was getting ready and so many of you asked about it! It's something I grabbed at Ulta a few weeks ago because I have FLY AWAY CITY on my head [thanks, Luke!]. He pulls my hair out a lot but also I lost so much hair after having him that the flyways on my face are so stinking awkward. I like to keep them out of the way when I do my make-up so that I don't get foundation or mascara on them! [This one is only $5!]
#3 FROMM Detangler Comb || This is so random but I had to share! I got this comb because my hair has been needing some extra love & help lately!! I am due to get my extensions moved up so it is just long and with the heat and all I feel like it has been more tangly than usual. I grabbed this while at Ulta because it was $2 and also because the comb is INFUSED with all types of "stuff" that is good for dehydrated hair! Is that not crazy?!?!
#4 WELLA Hair Mask & Oil || Oh. My. Stars. First of all, as I am typing this I am trying to figure out when I can get to Ulta because I just ran out of this mask… well! I didn't actually run out – my mom always takes it! Its the BEST hair mask – it is so so so good! I can't even exaggerate how amazing this is for your hair! The smell is insane – and that definitely scores lots of points for me! But it just detangles, softens, heals, etc. This is a must! I also use their oil as well! But if you have to pick – try the mask! Sidenote, I loathe washing my hair but I look forward to it now that I use this mask!
#5 Devacurl Styling Cream Curl Definer || This is random for sure but I accidentally bought something from this brand a few months ago not knowing it was for curly hair! I used it and liked it and then a girlfriend was like "wait, whys this in your bathroom?" and she told me that she and all curly-headed gals swear by this brand! I was embarrassed at first but then I realized I discovered something!! 🙂 Ha! This entire line is good for reducing frizz, big time! If you have curly, frizzy – try some products from this brand! I found that this styling cream was a good smoothing product! I also like the smell too!
#6 Babyliss Curling Irons / Straighteners || I have probably  8-9 hair tools between my curling irons and straighteners and blow driers! I have one for travel, one for our guest bedroom//my mom, different size barrel curling irons and different types, and a couple of straighteners! I am NOT a hoarder at all, I hate having clutter but I do find that each of these serve a purpose. I get my hair done at Habit Salon by the popular @HairBy_Chrissy! She is amazing and is so good! Her clients all have the same look when they leave the salon and it is because they use the 1.5" Bayliss Curling iron! I recently bought my own and so many friends asked what I had done different! It just gives a totally different, undone look! * I use this straightener! *
---
Sorry this is s long! I am going to add a few other Holy Grail Ulta products in the widget below!

Thanks to Ulta for sponsoring todays post.