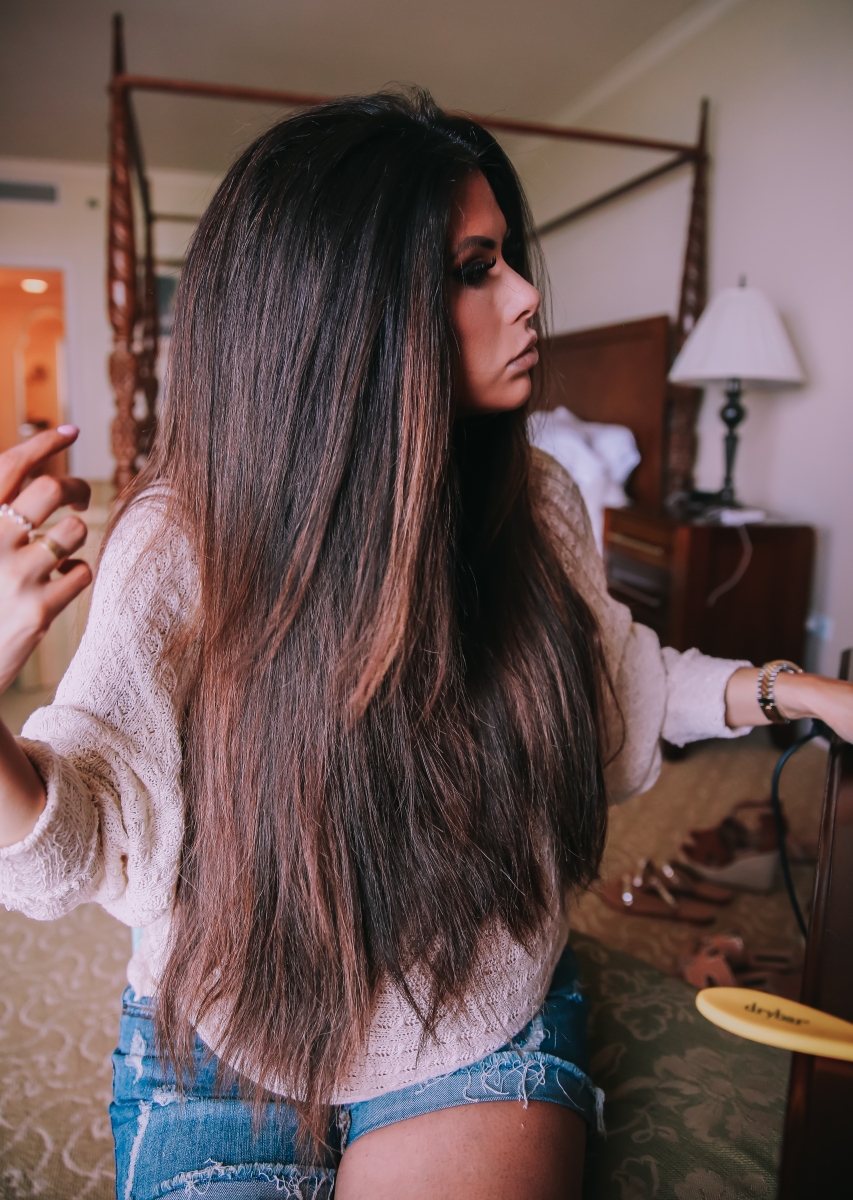 SLEEK STRAIGHT HAIR + BIG VOLUME
If you've followed me for long you know I'm all about big voluminous hair with curls! However, ever since I had Luke [even just being pregnant with him] I find myself wearing my hair straight 50% of the time. My hair actually dries very straight BUT the problem is that I usually fall asleep with my hair wet!? Not good. Not cute, LOL. Especially this pregnancy, I take baths nightly and I wash my hair once a week usually and a lot of times I have all of these big intentions of putting in my products and drying my hair before I go to bed OR at least wrapping neatly into my special *bun*. [It's how I sleep with my hair wet so that it doesn't get gross and messy during the night! There is a video of it on the highlight tab of my Instagram.] Anyway, no matter what happens, I always run a straightener over my hair – just to get the really sleek, super straight look before I leave the house the next day. The problem with having that sleep hairstyle is that sometimes it lacks volume so I always, always, always have to go in and work on my roots to get my volume back. My face is too round for that smoothed down, sleek look – and now that I'm in my third trimester my face is getting larger daily and volume in my roots helps [a little] in flattering that face shape.
Anyway, I thought today I'd share a few products I use to get smooth, straight hair + volume. I am using a new straightener – I purchased this about a month back and I do think it is super nice. However, the price point is steep. I am thinking about doing a half and half post on my IG stories today w/a more affordable straightener so you all can see if there's any difference. 🙂 Make sure to check the out.
Okay, lets get started. First things first, I am pretty set in my routine with what I use to wash my hair & style it – I've done dedicated posts [see BEAUTY TAB] about this previously so I will skip right over that so I don't sound like a broken record. One of the keys to having smooth hair is using a good hair mask. I've mentioned it a lot but I always use THIS HAIR MASK as a last step in washing my hair. It leaves my hair so soft & detangled and it also smells ahhhhh-mazing. Also, I am ALL about using a heat protectant right before I straighten my hair. I feel like straightening your hair has to cause so much damage – especially if you turn the heat up high – which I do.? I swear by THIS SERUM and I have since I was in high school, no joke. It smells like men's cologne and it really helps to keep the heat from damaging your hair. Next, I have to section my hair off to straighten now that I have extensions. If you are new here, I have posts all about my extensions if you have questions but they add 4″ to the length of my hair so sectioning it off is super important to getting it as smooth & straight as possible.
[If curious THIS post and THIS post are previous, recent hair posts I've done that talk about extensions, products, etc.]
I always use a comb or brush in my hair to straighten it – you can see in the photos that I pull the brush down the piece of hair before the straightener just to ensure there are not tangles or bends in the hair. [PS. I use the Drybar Detangling Brush.] I'm using the 10X Bio Ionic Pro Straightening & Styling Iron on my hair which is a really incredible straightener, however, the downside is the price point.  A few things I like about this straightener: heats up crazy fast, easily select the heat setting with buttons [up to 450 degrees], technology that actually helps to hydrate & condition hair as your straighten it, that same technology helps with shine, & overall a durable/quality straightener. You can tell by its structure and feel that it is just a really high end straightener. It feels good to use honestly – I don't know how else to explain it. It just doesn't feel weak or "dinky" at all. I think if you are someone who has frizzy hair or really hard to straighten hair – you'd LOVE this. Just how it has vibrating plates makes a huge difference in styling and it leaves your hair softer & shinier. I will admit, the price point stings a bit – but if you have unruly hair you may love this. Prior to using this straightener I had been trying out THIS Babyliss 1.25″ straightener and it did a great job as well. The technology is not as sophisticated by any means – but it gets the job done! I'm always trying out new straighteners and getting products in PR so anytime I 'approve' of one it means it passes the test and I'd be happy with that *one* alone.. aka I have tried a few that were not impressive at all!
Okay, after I've straightened my hair I always use a couple of products to seal up the ends and give my hair extra shine. I've mentioned these before but I love THIS Wella Luminous Smoothing Oil – it smells like the mask I mentioned above & it helps to smooth your hair out. Additionally, I use THIS Kendi Oil as well – it is similar to the Wella one so I don't know why but I always use them both! Unless I travel, I just pack one. They just make a big difference with shine / smooth / etc. The Kendi Oil is a bit 'stickier' – not sticky at all – but I feel like it makes flyaways lie down better, ya know?! Whereas the Wella Oil is more watery in texture so its really good for shine. You likely do not need both – they both work to improve your hair and also make your hair look good that day – you can't go wrong with either. 🙂 [PS. All of these products are found at Ulta so you can browse the site and read reviews there.]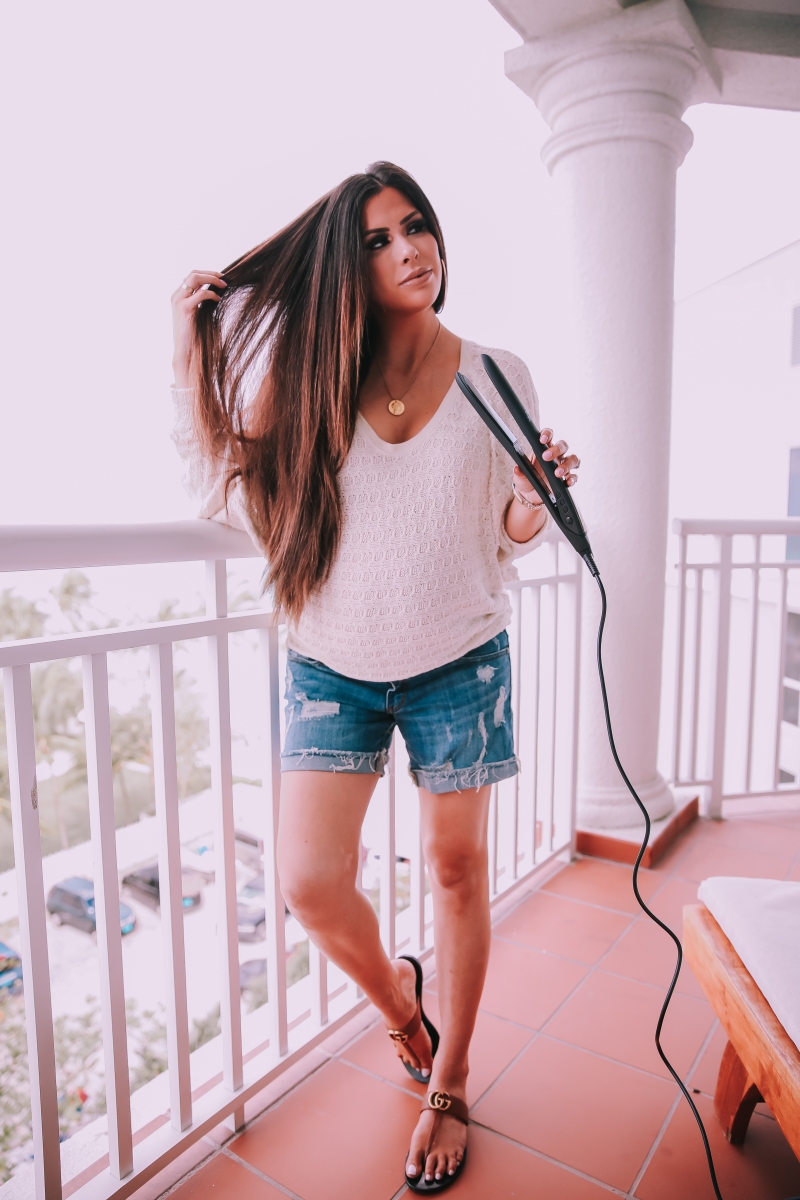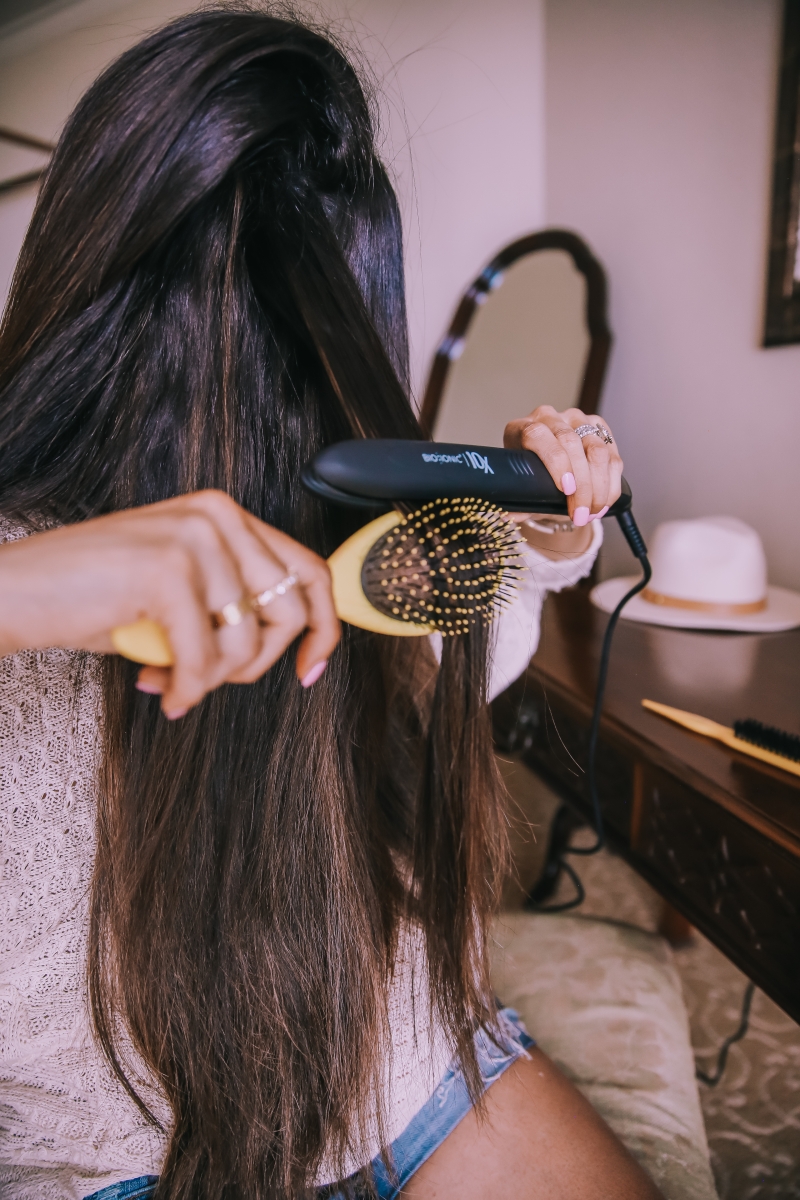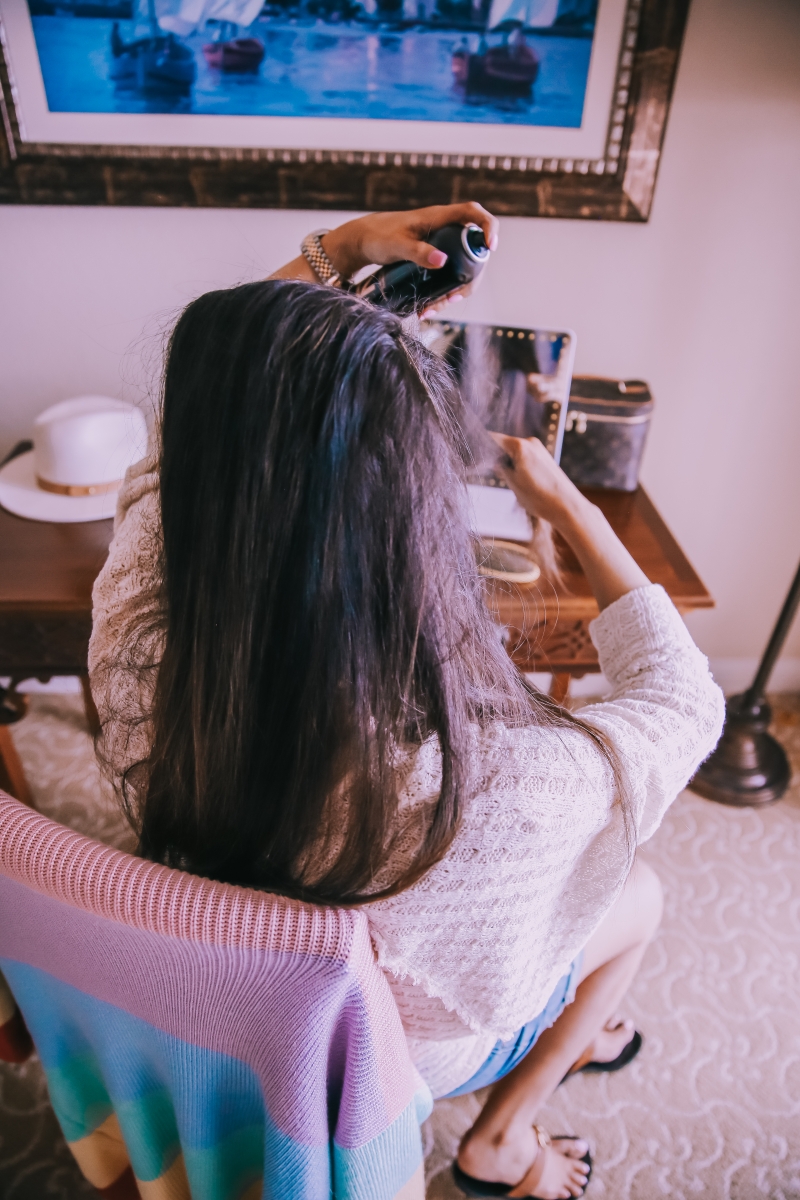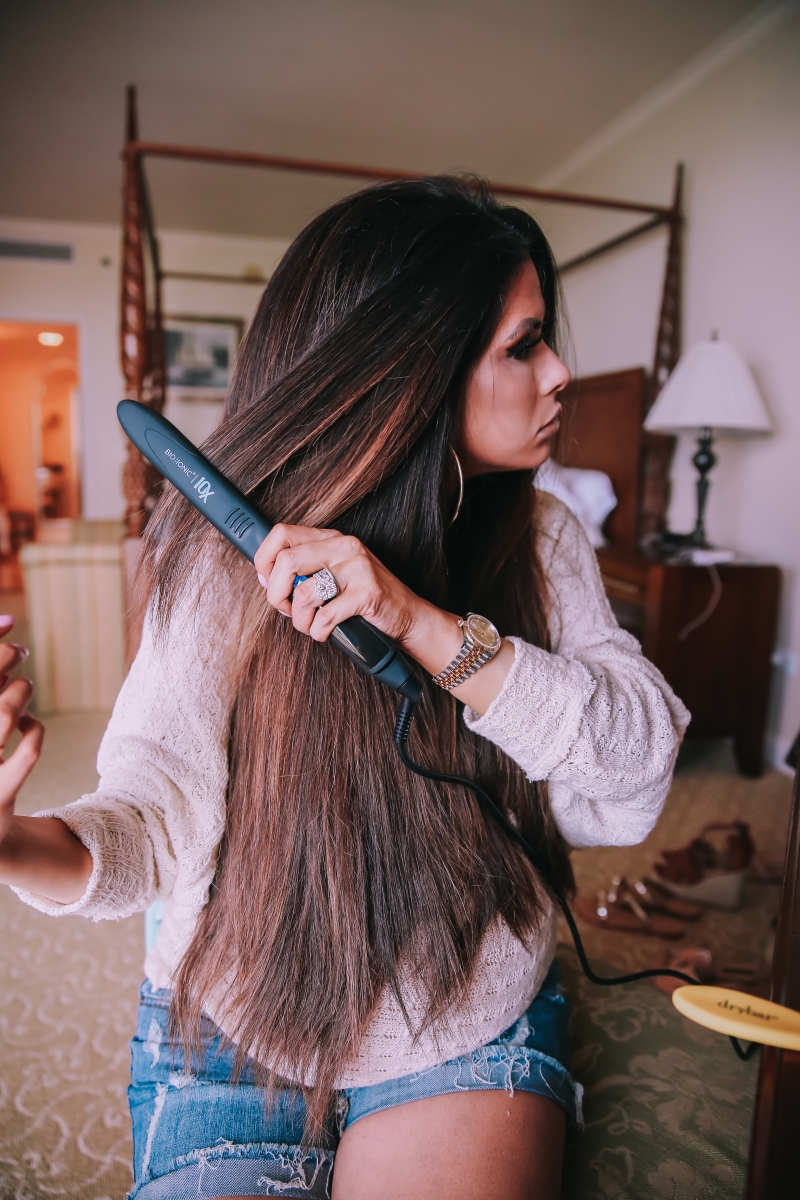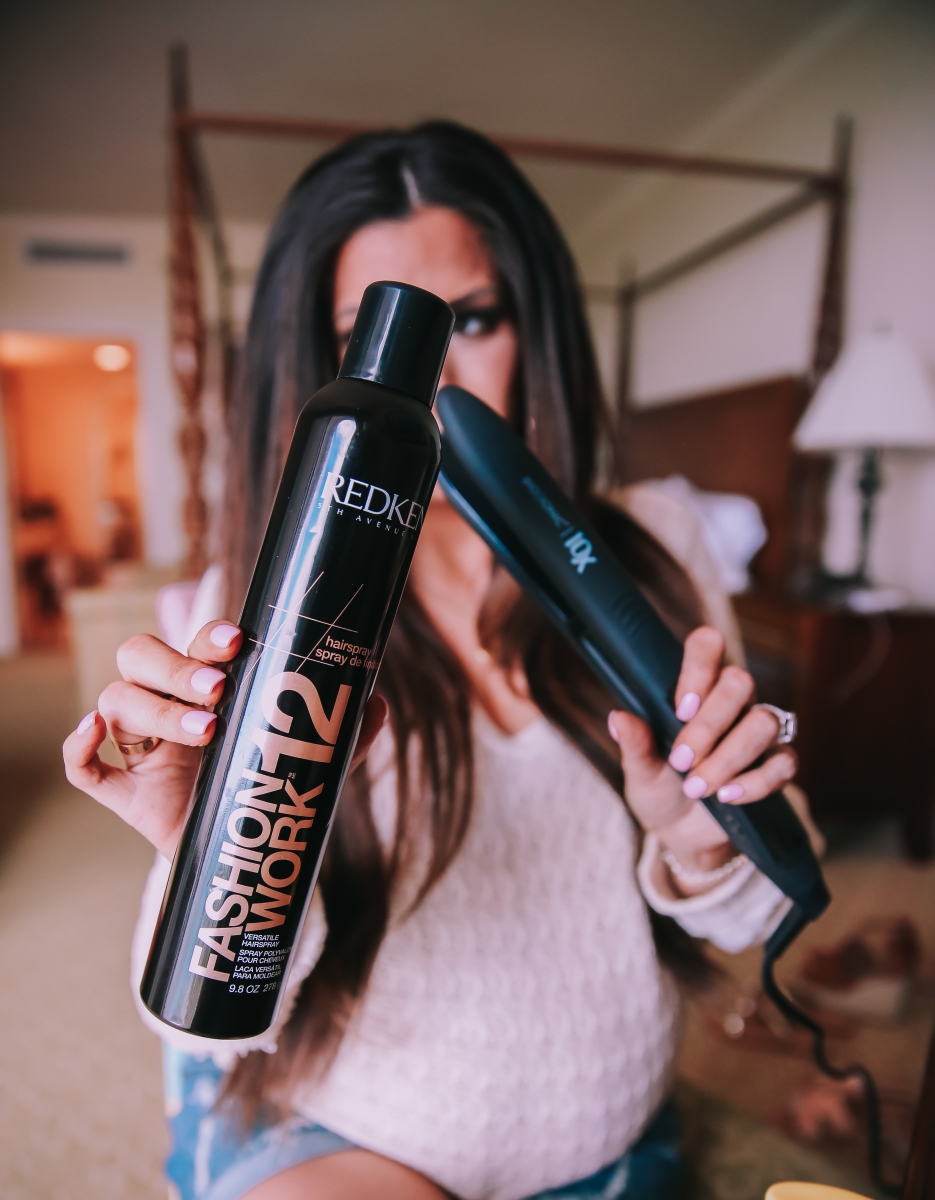 Lastly, VOLUME.
There's a graphic below that shows how I section off my hair, tease it, spray it, and let it set.
I've been using a new hairspray from Ulta, it's by Redken which I love – and it is called Fashion Work 12 Hairspray. It's really good if you like a medium hold – and it also smells SUPER good. [I'm so so smell oriented – especially during this third trimester!] It's definitely not a firm hold and won't leave your hair stiff or crunchy in the least. It's really good for frizz & humidity and also works great as a texturizer. I'm not going to stay its the bomb.com for those of you who want your curls to last for days or your tease to stay held up high for days – but its really great for the day of – ya know?! There are products that have a stronger hold on the market but this one is more for that days hair style. It won't leave your hair feeling gritty or gross by any means which is what I love since I wash my hair every 7days [ish – that just depends on what is going on, lol!]
One of my HACKS or PRO-TIPS is to let the hair dry or set on top of the can once you've sprayed it. I've done this for a decade now and it really helps the hairspray to dry down while still 'propped' up, ya know?! It's like baking under your eyes with concealer – it just sets it. Sometimes if you let the hair fall right back down it will have less volume so letting it set propped up kind of locks in that extra volume.
If you are curious, I swear by the Dry Bar Texas Tease Teasing Comb – I own 3 of these and have one w/me at all times, lol! I literally pack 2 on our trips just in case I lose one!! 🙂 Not only do I use it to tease, but I also use it to comb through my curls if they get crazy in the wind or something!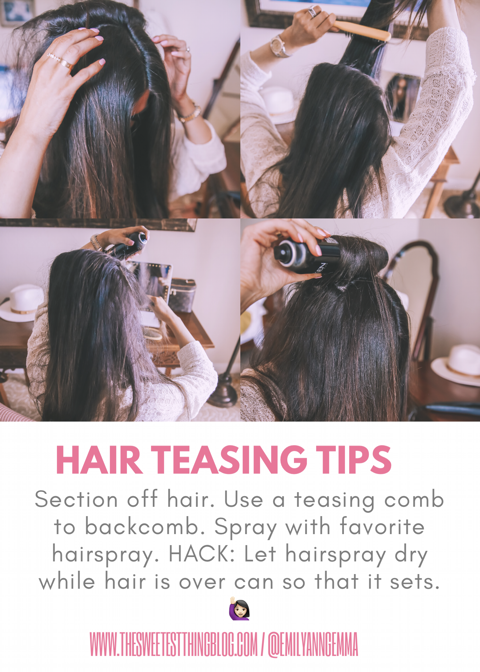 OUTFIT DETAILS: Sweater | Shorts | Sandals 

Thanks to Ulta for sponsoring todays post.