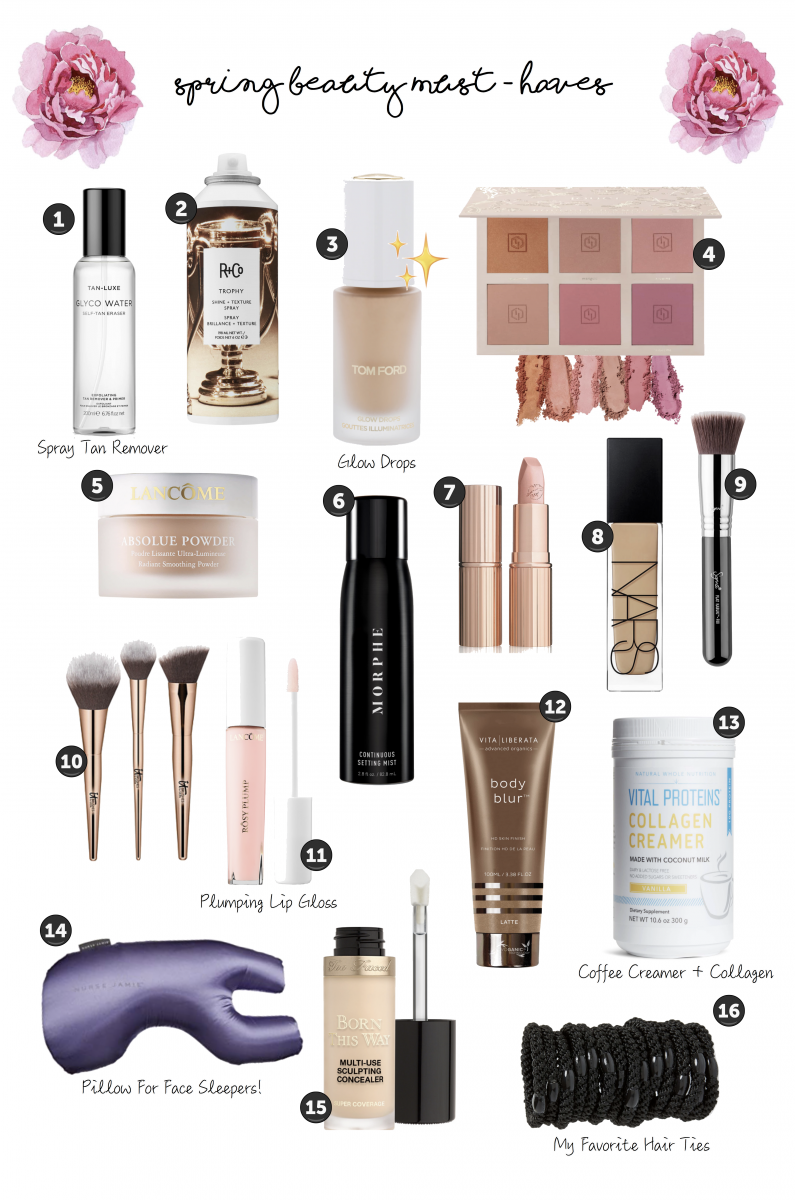 SPRING 2019 BEAUTY FAVORITES
#1 GLYCO WATER || If you are a self tanner / spray tanner / at-home tanner like me, you will be SO happy to find this magical stuff! First of all, the best self tanners usually do not come off easily – in fact, they will typically take days + lots of scrubbing. When my tan starts to break up and look bad, I spray this all over the bad spots [hands & feet usually] and then let it set for 3-5 minutes while I run my bath water. When I get in the tub, the self tanner usually just kind of rubs or balls off — if it is a tough spot I use an exfoliating mitt.
#2 IGK SHINE & TEXTURE SPRAY || I love this stuff because it is an usual combo – it provides texture & grit – but not too much PLUS it leaves your hair shiny! It also smells UNREAL! It's like perfume for your hair – kind of has a summery, coconut scent but nothing crazy! I like to use this on days when I curl my hair and want it to be extra voluminous and shiny!
#3 TOM FORD GLOW DROPS [also available HERE] || I was chatting about these over on my Insta-Stories [@emilyanngemma] a couple of days ago and had a TON of you writing in asking about them and also asking about what foundation, concealer, & primer I was wearing. These glow drops are in HIGH demand right now. We were in Laguna Beach / OC a few weeks ago and I went to EVERY store in the 30mile radius that sold them and they were sold out. There are two shades – SUN and SKY. You want the GOLDEN one, NOT THE WHITE ONE! The white one is still available in a lot of places so I swatched it – and I do not like it! The GOLDEN ONE is the best! I use these by mixing into my foundation AND by applying to a beauty blender when I finish my make-up and I just dab on cheekbones and other places I want more of a glow!
#4 JOUER BLUSH KIT || This is the MOST GORGEOUS BLUSH SET!!! I love love love Jouer blushes – they seem to also be spot on and actually have good pigment. This one has such an amazing color selection – peaches, pinks, bronzy shades, etc. I love it!
#5 LANCOME ABSOLUE POWDER || I've written about this before a few times and I also used it in my 'Moms Makeover' post! Its something I saw Jaclyn Hill use and I coincidently received it in PR. I love this lately because my skin is as dry as ever during the third trimester. I literally LOATHE how my skin looks at the end of pregnancy – its so funny – its like my face is swelling my my skin is not as easy to work with so I rely strictly on good skincare and glow products. This product just brings your skin to life and gives a subtle highlight so you look less dull.
#6 MORPHE SETTING SPRAY || I've talked about this a lot but I love it if you are not needing a dewy spray or a mattifying spray. It is a good in-betweener for setting your making and melting the powder together when you are done!
#7 NUDE / PINK LIPSTICK || I've mentioned this like 1.2 million times the last 2 years but I'm OBSESSED. This formula is amazing and the shade KIM KW is my jam. It is a nude / pink and is very flattering. I use different liners to give it different vibes honestly – like a pink liner if I want to pull more pink or a brown liner if I want a really nude lip. This stuff is just an amazing formula over all!
#8 NARS RADIANT LONGWEAR FOUNDATION || I get asked what foundation I use SOOOO often. In fact, I got ready on the plane on the way to the Bahamas and I got up to use the restroom and the Flight Attendant stopped me and said "okay I have to know what foundation that is!" and I also get a lot of you asking what I wear that stays all day & covers my melasma.. THIS IS IT! It is so good. I try new foundations usually each week or two and non compare. I wear the shade 'BARCELONA'.
#9 FOUNDATION BRUSH || The Sigma F80 has been my Holy Grail brush for 3 or more years. I keep 4 of them on hand just in case one breaks or gets too dirty. I get SOO many emails from you all raving about this brush & the foundation I mentioned above!
#10 BRUSH TRIO || I just got this in PR from IT Cosmetics last week and threw them into my bag as we were leaving for the Bahamas. YALL! I am obsessed. I love the handles – not just because they are gold but I like the way they feel. All 3 brushes are very meaningful and I get a lot of use out of each of them. The smallest one is amazing for sweeping powder from under eyes after baking or setting any small area with powder.
#11 LANCOME PLUMPING GLOSS || I've raved about this 1.2 million times the past few weeks – sorry! But I still get question after question each time I wear it on my stories and I'm always like "same one!!" – it is that good. I use shade 'NO COLOR' and there technically is not color. It looks good on top of everything really. It's considered a 'plumping gloss' but it is not like the Dior one that actually does plump over time – this one just makes your lips look fuller when you are wearing it. It's got a juicy, healthy look and really sparkles – but is not sparkly.
#12 VITA LIBERATA BODY BLUR || This is totally old news but EVERY spring & summer I get hit with this question SOO often. I try to have info easy to find here on my blog so that I can spend more time with family! This product tho is so bomb. I use the darkest shade. It does wash off – so it is not a self tanner – it is just like a makeup for your legs technically. It leaves them bronzed & glowy and covers flaws. Jaclyn Hill mentioned me in a video a few months because because she'd asked me what I use and I told her this and she got it and was raving about it in her Favorites. The brand sent me a few extra bottles as a thank you and no joke – I am going through them already! I do not go on a trip without this product. I use it on legs, arms, chest, etc.
#13 COFFEE CREAMER W/ COLLAGEN || I've never shared this with you all – I keep putting it off.. I got hooked on it last summer. I drink coffee every AM w/o fail and I started using this because I don't like the taste of the ones you mix with water. This is not necessarily YUMMY – especially and mainly the coconut but the vanilla is better. It's a good way to get a collagen boost just in your normal routine, ya know?! It's good for hair, skin, nails, joints, etc.
#14 NURSE JAMIE FACE SLEEPER PILLOW || I've touched on this before but I will bring it up again because I had it in my stories the other night and a lot of people started DMng me about it. This pillow is my JAM. First of all, I am SUPER picky about pillows & pillowcases. I only use silk cases because those keep my hair, lashes, & skin looking better. BUT, this pillow was a purchase I made a year or two ago because I was having a hard time not sleeping on my stomach. My mom always gets on to me because the only way I can sleep is on my face but it is so bad for your skin & even lash extensions. I got this pillow because it allows you to sleep with your face turned to the side and I find it super comfy. You can unzip the case and wash it which I have to do often. I just hang dry it along w/my other silk pillow cases.
#15 TOO FACED CONCEALER / SCULPTOR || I try new concealers weekly. I am a sucker for a new concealer that makes all of the greatest promises. I find that I rarely ever try one that really does what it says! I will admit, I don't like the ever so popular, Shape Tape one, either. This concealer tho has been my saving grace the past year. It's full coverage but if you blend out with a Beauty Blender you can melt it down a bit – if you want! 🙂 Its got a very natural finish and does not look like its "FULL COVERAGE" but it can hide dark circles and brighten so beautifully! I wear shade PORCELAIN.
#16 BEST HAIR TIES FOR THICK & HEAVY HAIR || You all recommended these to me and I finally caved. I mean, $18 for hair ties?!?!? I literally was like "no way". BUT, after 20+ of you recommended these I got them. And I am SO hooked. Literally, I don't think I could ever go back to the regular kind – ever. These are amazing for thick hair and don't damage your hair! Since they are pricy I just keep 2 out and leave the rest packed away in a drawer so I can't just accidentally lose any like I do bobby pins!
---
Hope you all enjoyed this post! I get a lot of the same questions repeatedly each day and I really wanted to take time out to answer and link to important posts that will be helfpul in answering the most commonly asked questions! Under certain sections I have linked dedicated posts to each topic in case you want more information. As always, the BEAUTY tab under MENU is where I file away all beauty content. I do one beauty post per week [so 3-4 a month!] so that I am constantly updating you all with what I am using! Being pregnant, a toddler mom, entrepreneur, & so much more I get very busy and can't answer every question that comes through so I have this blog organized so that you can find what ever you are need! XO❤️